Tuesday, October 9th, 2012
Tablets and Smartphones can be a lot of fun for kids. There are plenty of games to play, websites to look at and apps to experiment with. These devices may also seem like convenient babysitters when you're busy with work or chores. However, simply handing your mobile device over to your little ones poses several potential problems if you don't take the time to child-proof it first.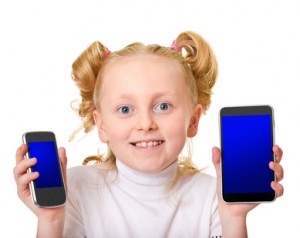 Device Dangers
Giving the kids free reign of tablets or Android phones opens the door for them to access inappropriate web content, rack up accidental credit card charges and possibly even damage your device. Before letting your child play, it's important to take precautions to ensure that both they and your Smartphone or Android tablet stay safe.
Always Monitor
The most obvious way to prevent youngsters from doing or seeing something they shouldn't is to keep an eye on them. You never want to put your child in front of any electronic device without supervision, be it the television, the computer or your Android tablet. Monitoring your son or daughter's activity lets you catch problems before they happen and gives you opportunities to teach them what is and isn't acceptable when it comes to technology.
Keep Content Kid-Friendly
There's a lot of content out there that you don't want your children seeing. Fortunately there are many apps available to help you filter out anything objectionable. Mobicip is a kid-friendly browser that uses the same standards that schools do to filter out inappropriate web content. Norton Safety Minder lets you keep an eye on web activity as well as block certain sites. Other apps such as PlaySafe, Kids Place and ChildrenTV give you various tools to manage which apps, games and other content your children are allowed to access when they use your Samsung tablet or other device.
Lock Down Purchases
Accidental purchases, both of full apps and of items within apps, can result in credit card charges that you aren't prepared for. iPhones include a setting that allows you to turn off in-app purchases, but currently the only way to prevent accidental charges on an Android phone is to block access to apps that may include them. The Famigo Sandbox app gives you a way to do this by allowing you to control which apps your youngsters use as well as minimizing access to other device functions such as text messaging.
Get a Protective Case
Whether it's grippy or squishy, chunky or sleek, padded or gel-like, get a case for your device before handing it off to your child. Protection is more important than style. Little hands often lack coordination and are therefore more apt to drop things, including expensive electronics. Cases can even become part of the fun. Make your device look like a little person, wrap it in a high-density foam grip or nest it inside a squashy pillow. Whatever type of case you choose, you'll know your Smartphone or Android tablet is safe and sound.
Before you let your little ones use your Android phone, Samsung tablet or other mobile device, make sure that you've taken the appropriate steps to make it safe. Cushion it with a case, install kid-friendly apps and keep an eye on your children as they play to ensure that they have a positive, fun experience.