Saturday, August 13th, 2011
I recently needed to find a mobile internet solution with a good amount of bandwidth, support for a lot of users, and one that I could easily move from place to place. The most obvious solution was a 4G internet plan, but after several frustrating hours searching around on the internet one evening for a solution I came up empty handed.
I needed something that would handle 20+ clients connected simultaneously. Yet, as some of you already know, the web stores for Sprint, Verizon, etc. only sell mobile hotspot devices with their 4G plans that handle a maximum of 5 connected clients. This small number of users makes it very difficult to use the 4G device with a small room full of people, or in a small to medium sized office as a backup device for the main internet connection if it ever goes down. Verizon had the largest capacity mobile hotspot (it would connect 8 users at the same time), but even that number was too small for my needs.
The next day I stumbled upon the Cradlepoint 4G routers. It wasn't easy to find this company through my normal search terms the night before, so they should consider an upgrade in SEO for their website! Cradlepoint sells routers and devices that greatly expand the number of clients that can connect to and use a single 3G or 4G modem. What I liked the most about their website was how easy it was to identify the product that I needed.
First of all, they have a chart the shows you exactly how many clients or users you can connect for each of their various devices. Next, on the product pages, there are technical specs that will give you a list of the hardware (modems, hotspots, phones, etc) supported broken down by cellular company.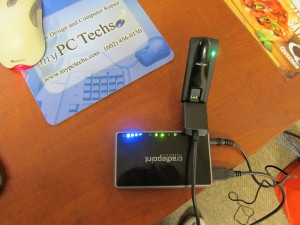 I settled on the CTR 500 for my intended usage. This device has good reviews on the internet, can utilize most wireless devices from all carriers, and will support up to 32 wireless clients (and many more wired). I found this smoking deal on Newegg for the Cradlepoint, along with a lot of great reviews: http://www.newegg.com/Product/Product.aspx?Item=N82E16875997455
Once I knew which Cradlepoint model I needed to buy, I then used the supported devices list on the CTR 500 webpage to look at different carriers and see what was available (AT&T, Sprint, Verizon). You will find that many products listed on the Cradlepoint product page are older devices no longer being offered by the various carriers. I had to cross-reference the devices supported by the Cradlepoint with those that were actively being sold by the cell companies.
I knew that I needed 4G, so the most important thing I had to do was look over the 4G coverage maps for the cellular companies in my area. Take a look at these 4G Coverage Maps:
Verizon 4G Coverage Map
Clear 4G Coverage Map
T-Mobile 4G Coverage Map
Sprint 4G Coverage Map
AT&T 4G Coverage Map
Unfortunately, Verizon is the only cell company in my area that offers reliable 4G coverage. That alone finalized my decision and forced me to go with Verizon and to choose a compatible Verizon device for my Cradlepoint. I say unfortunately because Verizon recently stopped selling unlimited data plans, opting instead to limit their data plans to a maximum cap of either 5G or 10G per month. If you go over that purchased limit, they will charge you an additional $10 per GB. AT&T does the same thing, limits your data plans and charges you for overages. T-Mobile claims to offer unlimited data, but that's simply not true – they just throttle (rate limit) your bandwidth after you cross a certain amount of usage each month. Since Sprint is the only carrier that sells unlimited 3G and 4G data plans I really wanted to sign on with them, but their 4G coverage is nowhere to be found in my area. If you have Sprint in your area and they provide 4G, jump on it!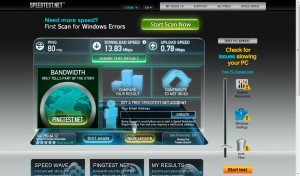 End result? I had to settle for a Verizon 10GB per month plan. Watching bandwidth usage on a device like this will be critical when you have multiple users connected. Fortunately, the CTR 500 has a lot of sophisticated controls over the network and I am still playing around, creating rules and firewalls to limit what connected users are allowed to do with the network. There are calculators out there that can help you determine the amount of data you'll need to accommodate 32 simultaneous internet users. A 4G device with a 5GB or 10GB cap can only be in use for a short amount of time before your limitations on the plan have been reached, so this solution is best for short, mobile internet use (like seminars) or as a backup internet option when the main connection fails.
So far I have been pretty happy. I did some recent speed tests with the device and found that I was getting many times greater speed than I can get on my T1 line in the office.
---
>> Did you like this article? Ping it!