Thursday, November 10th, 2011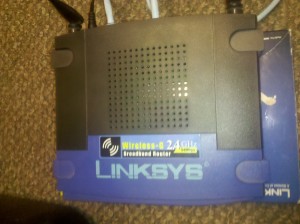 The Challenge: How can you create a wired LAN with an independent network when:
> There is no available CAT5 cable leading to a modem or router
> The only internet connection nearby is on an established router that you can't change settings on
> Wireless access is available in the building
One option is a cradelpoint 4G router, using a Verizon 4G modem to setup internet access for multiple computers. However, in this case, we need a solution that is not limited by the amount of data you can download before overages set in. We settled on using a spare Linksys WRT54G router. When flashing this to DD-WRT, it's possible to set the WAN on the wireless router to client mode and connect to an existing Wi-Fi network. We could then create a LAN on the device and plug-in computers to create our own network that would use the connected Wi-Fi network signal to pull internet!
Take a look at this article "Building a Wireless Bridge" that is helpful for this type of configuration. How can our Phoenix computer repair office help you solve your office networking challenges?
---
>> Did you like this article? Ping it!