Saturday, September 18th, 2010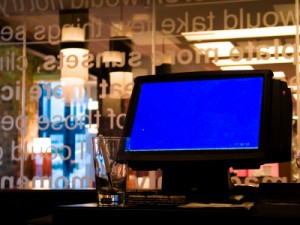 We do work for several restaurants and retail stores here in Phoenix, Arizona. These shops are all using windows based point of sale systems. While the software and database that run on the computers to transact credit card payments and process menu items are highly customized and supported by the franchise in most cases, the underlying operating system and hardware is not.
We have learned a lot about these systems and can say with certainty that the biggest issues we have run into are lack of proper backups and lack of spare hardware. When a point of sale system goes down for a store, especially a busy store, it is NO FUN. Employees need to process payments manually by hand and write out paper receipts. As you can imagine, the slowdown at the register does a lot to aggravate customers and employees alike. But there are three things that you can do as a retail store business owner to minimize downtime in the event of a system crash.
1. Perform regular system maintenance
Hiring a firm like my PC Techs to regularly maintain your equipment each month can save you from several hours worth of headache and hundreds or thousands of dollars in lost sales. Our technicians will visit your store and examine your systems for irregular performance. System errors, faulty hardware, failing hard drives, botched OS updates, and corrupted data can, in many cases, be identified and corrected before it becomes a larger problem. Dust can be cleaned out (the largest cause of hardware failure), and parts inspected. Unnecessary programs can be removed and system performance improved. The best part of this scenario, the repairs can be performed before or after regular hours, so customers never experience delay.
2. Perform regular, complete data backups
Usually during the same time as the system maintenance, our technicians can perform a complete data backup of all of your POS systems. This is important. When a hard drive crashes, you want to get your system back online as quickly as possible. To rebuild an entire system, restore data from on off site repository, and get all the hardware and software working correctly could take many hours. With a complete system backup, it could be as simple as popping in the right piece of replacement hardware and running a 30 minute recovery.
3. Identify and build an inventory of replacement parts
When a system failure happens, recovery time can be improved considerably when the right spare parts are kept on hand. Rather than buying hard to find computer equipment online, and waiting for it to be shipped, a replacement part can be obtained from storage and quickly installed to replace the broken component. That part can later be replaced to storage, so you always have a backup on hand for the next time disaster strikes.
When you think about the security of your data and your ability to transact business, keep in mind your local computer experts and ways that they can work with you to help improve the reliability of your computer operations. For help with the maintenance and emergency support of your POS systems, contact my PC Techs today. (602) 456-0150.